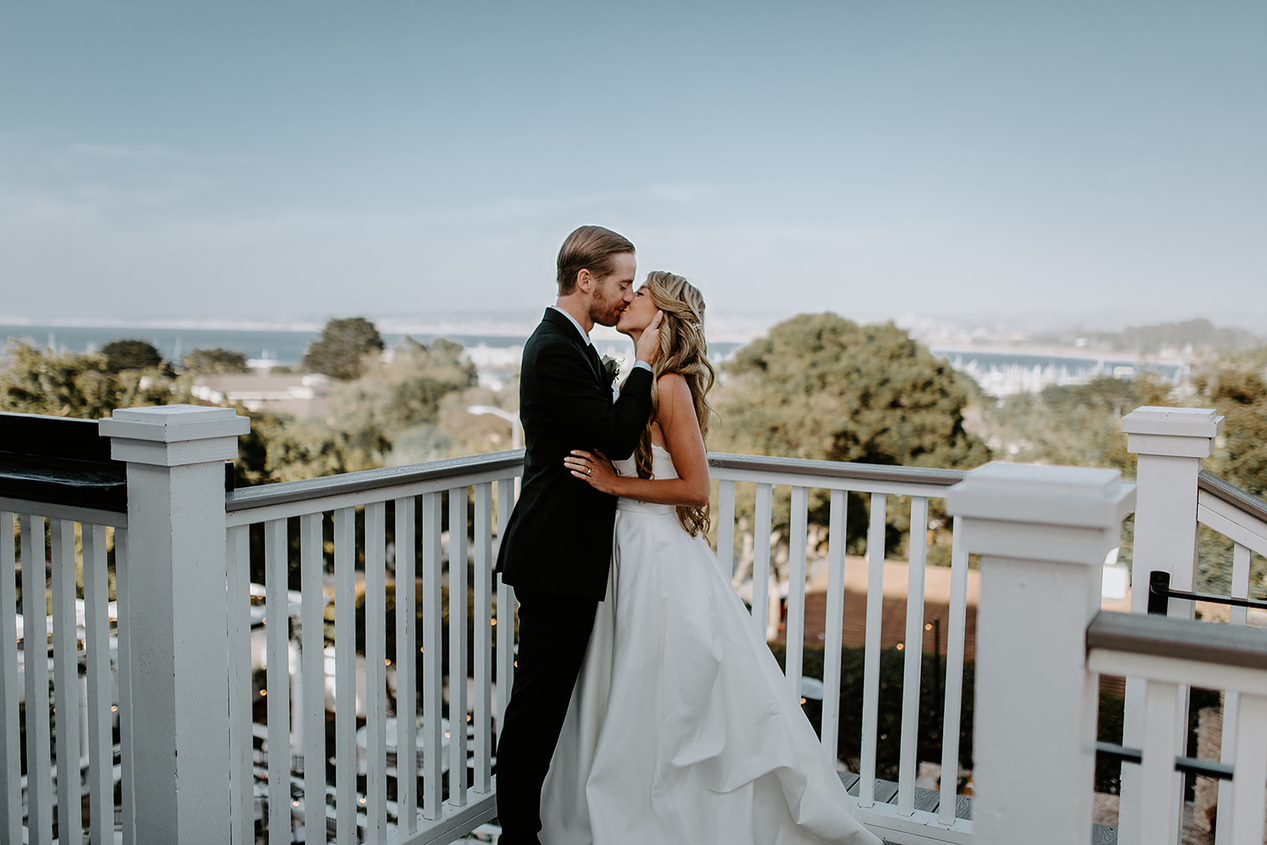 Your Wedding at The Perry House . . .
The Perry House is not your typical wedding reception choice. With its extraordinary blend of history, architecture and charm, The Perry House "style" is contemporary, warm and fun! If the vision for your wedding has an emphasis on blending your friends and families together in a stylish, yet relaxed celebration of your marriage, then The Perry House could be just the right choice to help you create your "Storybook" memories!
The property offers an enchanting atmosphere designed specially to promote relaxed conversation, and a culinary experience your guests will enjoy unlike any other "wedding" meal they've had before. The exceptional service of The Perry House's professional and courteous staff will wow even your toughest critic, and for your history buffs, the property is even on Monterey's "Path of History" tour; and to top it off, the views are spectacular by day or night! And if convenience for your guests matters, The Perry House is just a short walk to hotels, bars and restaurants making the location a big plus for your out of town guests or for "after parties."
If you are looking for a wedding venue in Monterey, The Perry House is sure to be at the top of your list. From the beautiful home to the pizza oven, gardens and bay views, The Perry House is waiting to be enjoyed by all who enter!
Details
The Perry House was renovated with beautiful weddings in mind! Our goal was to make your planning easy with little need for additional décor, decorations or rentals. At The Perry House, you can enjoy having both the ceremony and reception in one location; however, many of our couples wish to have their ceremony at a local church or at one of Monterey's beautiful beaches.
We can accommodate up to 130 guests and are an all-inclusive facility, meaning you do not have to worry about getting separate pricing information for facility, catering, rentals, staff, etc. Our pricing includes the facility rental, 5-star catering and event staff, tables, chairs, china, flatware, glassware, linens, heaters and more. Alcohol is priced separately.
As prices do vary dependent on guest count, day of week, time of year and menu selections, please contact us for for details.  We are happy to give you a "general" idea or even more happy to create a proposal specifically geared to your needs and wishes.
However, with all the possible variables, to make sure you are getting the exact numbers to use when comparing with other venues, if at all possible it will help if you visit the facility in person with one of our Event Managers to discuss the various pricing options that are available.

Robert Louis Stevenson is quoted as saying the Monterey Peninsula offers the greatest meeting of land and sea; add to that the proximity to World-Class Golf Courses, the Monterey Bay Aquarium, Cannery Row, Fisherman's Wharf, 17-Mile Drive, Big Sur, the National Steinbeck Center, and the Monterey Wine Country, and you have a perfect destination wedding location.
The Perry House is proud to have been awarded Wedding Wire's Couples' Award since 2012.